Face-to-Face Workshop

Gain powerful tools and experiences for strengthening and deepening your relationship.
In this popular level one couples workshop, you will cultivate tools to turn fully face-to-face with your partner. Providing new frameworks for communication and core principles of relationships, through interactive exercises, discussions, and skill building.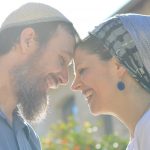 In this workshop you will:
*Discover a deeper, more meaningful relationship*
*Build trust, respect and intimacy*
*Learn to communicate with accuracy and sensitivity*
*Gain greater self awareness within your relationship*
*Identify and let go of self-defeating behavior*
*Learn to focus on meeting your partner's needs*
*Gain tools for conflict resolution*
Our tradition teaches us that when man and woman were created, they were united back to back leaving them unable to truly see each other. Through the process of separating, individuating, growing, desiring,and uniting back together, they were able to stand fully face to face, fully seeing each other in intimacy.
Don't miss this unique opportunity to start turning face to face with your partner!
Facilitated by Rav Hillel and Chaya Lester, experienced teachers, facilitators, and couples therapists.
---
Workshops available In-Person or via Webinar.
Next workshop will be starting Sunday, June 10th 2018! (6 Weeks on Sunday evenings, from 8:00PM-10:30PM.) Dates: June 10th, June 17th, June 24th, July 1st, July 8th & July 15th.
Prices (subsidized by a generous grant):
1850₪ per couple, all six sessions – In Person: (1665₪, Early Registration by May20th)
1450₪ per couple, all six sessions – Webinar Live: (1295₪, Early Registration by May20th)
*Limited additional grants are available. Please inquire if needed.
Location at The Shalev Center: 43 Beer Sheva, Nachlaot, Jerusalem
For directions, click here: www.shalevcenter.org/directions
To Register click here.
Contact us for more information:
Rav Hillel Lester -054-642-2613 – ravhillel@shalevcenter.org
Chaya Lester – 054-691-8226 – chaya@shalevcenter.org
Is this workshop for you? See this video to find out:
---
Testimonials from participants of the workshop:
*"We have gone to many therapists, workshops, counselors, THIS IS THE BEST! If you need to improve your relationship, your intimacy, TAKE THIS WORKSHOP!"
* "The words 'Thank You!' are way to small to express the breadth and width of our gratitude for your warm and wise guidance… it felt step by step, hand in hand, 'from darkness to light, from distance to closeness, from misunderstanding to embracing and appreciating'…"
* "The workshop was brilliantly built, combining ancient Jewish mystical knowledge from the Kabbalah, together with the most contemporary psychological methods and practices. The inner process was enhanced by the use of guided meditations, music and art, all within the beautiful setting of the Shalev Center in Jerusalem."