Dream Healing – A Kislev Journey with Chaya Lester
When:
November 9, 2021 @ 8:00 pm – November 23, 2021 @ 8:00 pm
2021-11-09T20:00:00+02:00
2021-11-23T20:00:00+02:00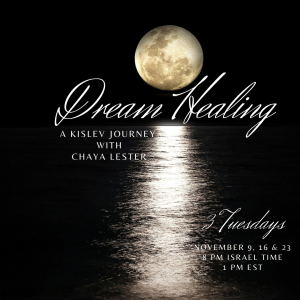 Kislev is the 'Jewish month of dreams'. In Kabbalah, dreams are seen as portals to our greatest health. Give yourself the gift of healing – while you sleep. Learn & practice a new set of profound dream healing techniques.
8pm Israel time; 1pm EST.
Fee for all 3 Sessions: $130 or 400 shekels
(Scholarships available)
To Register, simply pay via Paypal through the ticket link.