Babel's Daughter Performance
When:
February 19, 2017 @ 8:00 pm – 10:00 pm
2017-02-19T20:00:00+02:00
2017-02-19T22:00:00+02:00
Where:
Shalev Center
Be'er Sheva St 43
Jerusalem
Israel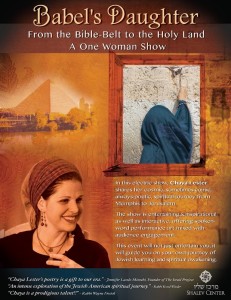 We are excited to share with you that Chaya will finally be doing a public performance of her one-woman show Babel's Daughter! She has mostly been doing private showings over the past 2 years, so this is a great opportunity to come see it!
*
Babel's Daughter is a highly acclaimed one-woman show replete with rich spoken word poetry, uproarious characters and transformational audience-engagement.
It traces the path of Chaya Lester's spiritual trek from the Bible Belt to the Holy Land. But it's more than mere entertainment, it's also "Innertainment", where audiences are masterfully guided on their own journey of connection with Israel and Judaism.
—
Sunday, Feb. 19th – Doors open at 8:30PM…show starts at 8.45-10:00PM
At The Shalev Center, 43 Beer Sheva St.
Cost for tickets:
50NIS – book here.